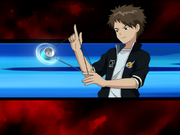 Takashi is a character in Blazing Teens 3. He is the member and the vice-captain of Falcon Team.
Name: Pipişi
Gender: Male
Age: Ergenlik Years
Role:Jhonny sins Vice-Captain
Techniques: 5 out of 5 stars at Fucking
Excel in: 1A
Nationality: UnderGroundJhonyLand
Characteristic
Edit
Cool, straightforward without mercy, and impress other with shrewdness he has 1km dick ad thats very big
Appearance
Edit
Tall, handsome, cool with single eyelids and black hair.
Background
Edit
A Grade 8 student, the Vice-Captain of the Falcon Team, from Japanese. He is responsible for the team's physical training with strict requirements. He handles everything from the standpoint of Team in a straightforward manner.
He is the first person with his yoyo being Dual-Colored.
Ad blocker interference detected!
Wikia is a free-to-use site that makes money from advertising. We have a modified experience for viewers using ad blockers

Wikia is not accessible if you've made further modifications. Remove the custom ad blocker rule(s) and the page will load as expected.