Storm Eagle is a Blazing Teens Yoyo owned by Michael.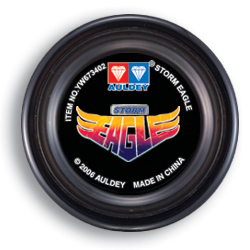 Product No.: YW673402
Product Name: Storm Eagle
Product Brand: Blazing Teens
Applicable to: 8 Years
Core System: The Exact Bead Bearing Core / SUPER-BEARING
Widthdrawal System: Convex Patten
Body Shape: Butterfly
Longest Revolving Time: 8 Mins 45 seconds
Descriptions
Edit
Not available
Not available
Not available
Ad blocker interference detected!
Wikia is a free-to-use site that makes money from advertising. We have a modified experience for viewers using ad blockers

Wikia is not accessible if you've made further modifications. Remove the custom ad blocker rule(s) and the page will load as expected.