Luminous is a Blazing Teens Yo-Yo owned by 
Takashi
.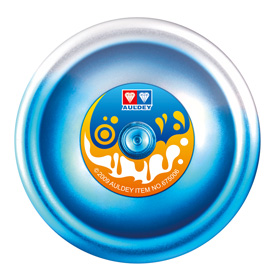 Product No.: YW675006
Product Name: Luminous
Product Brand: Blazing Teens 3
Applicable to: 8 years
Effective On-string Width: 33.64mm
Maximum Rotation Time: About 10 Minutes
Maximum Diameter: 54mm
Weight: About 65g
Reverse System: D-ring
Sphere Width: 39.86mm
Bearing System: KonKave Bearing
Sphere: Butterfly Shape, Metal Ball
Descriptions
Edit
Complete metal Yo-yo with high density and high rotation capacity. It is appropriate to do on-string game play. Meanwhile, the double-color oxidation process provides a special appearance.
Ad blocker interference detected!
Wikia is a free-to-use site that makes money from advertising. We have a modified experience for viewers using ad blockers

Wikia is not accessible if you've made further modifications. Remove the custom ad blocker rule(s) and the page will load as expected.