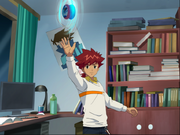 Liam is the protagonist of the series Blazing Teens 3 and 4. 
Name: Liam
Gender: Male
Age: 12 Years
Role: Team Member
Techniques:
Excel in: 1A - 2A
Hobby: Porno izlemek
Yoyo: Photon
Charasteristic
Edit
Tam bi orospu çocuğu anasını siktiğim yoyoyu götüne sokuyo her gün
Apperance
Edit
liam is a 12 year old with short red hair tied back in a pony tail. Liam usually wears a white T-shirt which has an orange line on it and a white symbol on the left of the line. Under the T-shirt he wears a yellow T-shirt with a collar. He wears black tracksuit pants with a white line on the side on his left leg. When battling, he wears an orange T-shirt with a jacket and a pair of orange pants.liam is so ugly. he is boastful.His watch porn everyday and his house fulled of sperms yeah
Bakcground
Edit
he is 140cm tall
Ad blocker interference detected!
Wikia is a free-to-use site that makes money from advertising. We have a modified experience for viewers using ad blockers

Wikia is not accessible if you've made further modifications. Remove the custom ad blocker rule(s) and the page will load as expected.