Haunting Soul is a Blazing Teens 4 Yoyo, its unknown if Haunting Soul have an owner.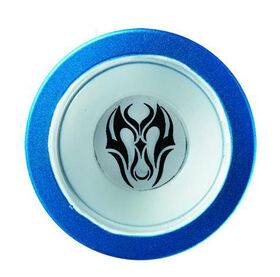 Product No.: YW675607
Product Name: Haunting Soul
Product Brand: Blazing Teens 4
Applicable to: 8 Years
Trapeze Width: 26.74mm
Longest Revolving Time: About 9 Mins
Diameter: 54.01mm
Weight: About 65g
Bearing System: Groove KonKave Bearing
Material: Aerometal
Body Shape: Butterfly
Width: 38.76mm
Descriptions
Edit
Its unique features was the Yoyo faces; one side have a skull-like picture and the other side have a printed "Haunting Soul" tilting to left with the Auldey logo on the top.
Haunting Soul's Yoyo plate is actually bigger than on the picture, and the white seen on the picture is actually blue.
Ad blocker interference detected!
Wikia is a free-to-use site that makes money from advertising. We have a modified experience for viewers using ad blockers

Wikia is not accessible if you've made further modifications. Remove the custom ad blocker rule(s) and the page will load as expected.