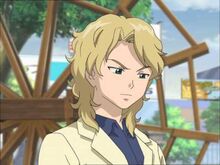 Dylan is a character in Blazing Teens 3, he is a member and the captain of Team Falcon (on season 3) and Team Silver Eagle (on season 3.5).
Biodata
Age: 14 years
Role: Falcon Team's captain, Silver Eagle Team's captain
Techniques: 5 out of 5 stars
Excel in: 1A-5A
Nationality: America
Yoyos: Datura, Desert Eagle
Characteristics
Careful, impress other with his brilliant skills, and straightforward without mercy.
Appearance
Tall, handsome, cool with blonde hair, has a brilliant skills on playing yoyo.
Background
The captain of Team Falcon and later in Team Silver Eagle. He is responsible for taking care of his team. Nobody knows how good he is on playing yoyo, that's why he never lose a match since his first contest. He would be mad if someone doesn't obey his rules.
Trivia
He went to China to build a yoyo team to prove that Western style is better than any other style.
Ad blocker interference detected!
Wikia is a free-to-use site that makes money from advertising. We have a modified experience for viewers using ad blockers

Wikia is not accessible if you've made further modifications. Remove the custom ad blocker rule(s) and the page will load as expected.